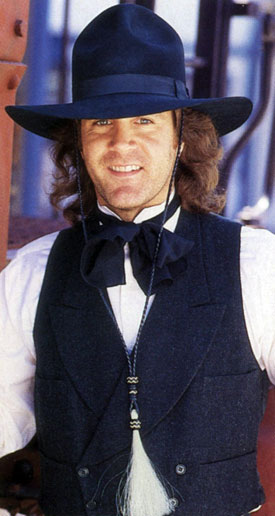 Shown with Leather & Horsehair Stampede String and Trail Boss Hat.
Silk Goin' To Town Bow Tie
A Victorian Tie (even though tied in a bow, the term "bow tie" didn't evolve until later) was a fuller piece of silk, of varying length, that was tied around one's neck in the same manner shoe laces were tied. This reflects what we wanted our tie to be and not the skinnier "string ties" that showed up much later in the T.V. and spaghetti westerns (not to mention the dreaded "clip on").
100% Crepe du Chine Silk
One Size Fits All
Price: $25
Goin' To Town Bow Tie
100% Silk
$25
---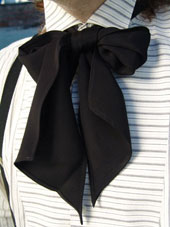 Black Bow Tie on Tuxedo Shirt