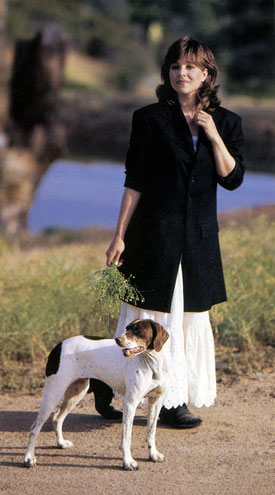 The Original Old Frontier Clothing Co. Frock Coat
The women were not going to be denied when we first offered our Gentleman's Frock all those years ago. They would literally buy our smallest men's coat, which at the time was a size 38. Since then we took the same coat (it was just so perfect we avoided any thoughts of making changes to it) and graded it down four sizes thus producing the additional sizes 30 through 34. We have listed a sizing chart to help you pick your size (bearing in mind it's basically a chest measurement).
Available in Black and Grey (refer to swatches below for additional fabrics).
100% Worsted Wool
Sizes 30 through 42
Our Frock Coats sizes for women run as follows:
30 = size 4, 32 = size 6, 34 = size 8, 36 = size 10, etc. Remember sizes equate to bust size, call if further assistance is required.

Price: $295
---
Custom Fabric Make Up Program:
In addition to the basic colors, Black and Grey, we offer the Frock Coat in our Custom Fabric Make Up Program, meaning that you can order this style in the limited fabric swatches shown. Delivery time runs approximately 60-90 days. We do not charge anything extra for this service, but fabric availability is subject to change. We will notify you regarding any changes in delivery or fabric availablity.
---
Click on thumbnails to see larger view of each swatch.
| | | |
| --- | --- | --- |
| | | Chocolate - #BRN |
| | | |
| --- | --- | --- |
| | | Grey Herringbone - RF4 |
| | | |
| --- | --- | --- |
| | | Rust Tweed - RF5 |
The Ladies Frock Coat
100% Worsted Wool
$295
---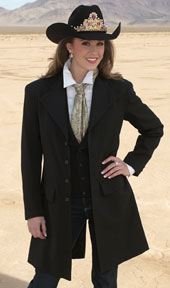 Miss Rodeo in Black Frock Coat and Vest