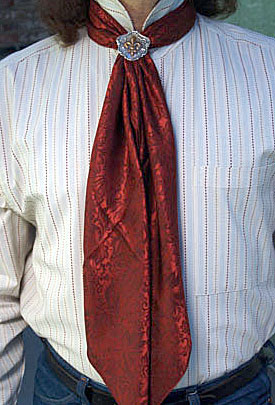 Old Frontier Clothing Company Accessories
Scarves
Whether you call it a bandanna, a "wild rag," or just a scarf, the most important thing, to a Cowboy, is that it be big. Ours are about 36" x 36", and that's 100% silk. Generous proportions were important when you considered the multiple uses this simple piece of equipment was asked to perform - it could be a sling, a bandage, a blindfold for your horse, a cooling mechanism when wet and stuffed inside a hat, a face protector or mask. Of course, that was then, now it is a cravat (roll it and tie it in a square knot), a dress tie (roll it and tie a 1/2 windsor knot), a cowboy "turtleneck" (put the triangle in front with point down and wrap the ends around the back and then tie a knot in front), an ascot (just tuck it inside your collar) or just a cool cowboy knot (maybe one that no one has thought up yet).

Price: $40-$60
---
Scarf Fabrics Swatches:

Price: $40

---

Price: $50

Black & Tan

---

Price: $60
Scarves
100% Silk
$40 - $60
---
---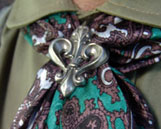 Regent Slide:
Another great piece of jewelery and an alternate way to wear a "rag" but at an equally great price.
Price: $25
---