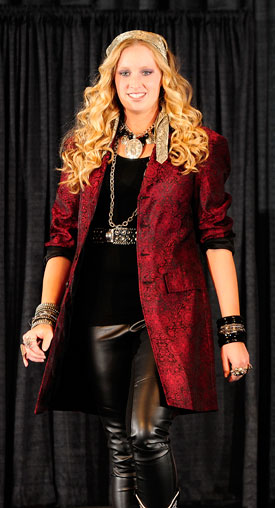 The Old Frontier Clothing Co. Brocade Frock Coat
Recently a customer asked if they could have a Frock Coat made up in one of the Brocade fabrics (up to now, exclusively only made into our Notch Vests). We didn't see why not and once the first one was made not only did everyone want one but they started asking that all the brocades be made available for the coats. Needless to say, it is hard to pick a favorite out from all the brocade choices. Now we are asking why didn't we do this much sooner.
The brocade fabric transforms this jacket into an elegant statement, not seen since the tailored smoking jackets of the 30s.
While it is true that more of these coats are selling to the ladies versus gentlemen, we have sold plenty to the men (remember in the animal kingdom it is the males that are the most brightly colored in order to attract the females). In short order we will feature this coat on the men's pages but don't let that stop you from ordering yours now. I could mention a few music industry notables that are already wearing theirs, onstage and off.
100% Acetate
Sizes 30 through 42
Our Frock Coats sizes for women run as follows:
30 = size 4, 32 = size 6, 34 = size 8, 36 = size 10, etc. Remember sizes equate to bust size, call if further assistance is required.

Price: $295
Brocade Fabrics Swatches:

Black/Brown/Gold Paisley Brocade

Red Paisley Brocade

Burgundy Paisley Brocade

Rust/Blue/Green Paisley Brocade

Gunmetal Paisley Brocade
The Ladies Brocade Frock Coat

$295
---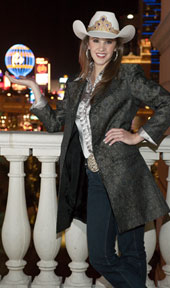 Miss Rodeo in Gunmetal Paisley Brocade Coat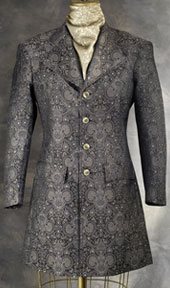 Gunmetal Paisley Brocade